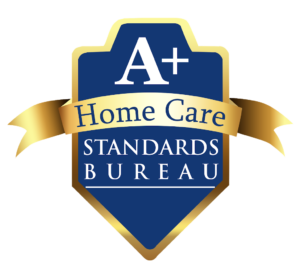 With more than 20,000 home care agencies in the United States, finding the right one can be difficult. Home Care Standards Bureau (HCSB) has made it easier to find the best care available by certifying non-medical home care agencies that meet the most stringent standards. Westchester Family Care, located in Mamaroneck, New York, is among a distinguished and limited national group of agencies to be recognized with an A+ certification from HCSB.
HCSB grants the A+ certification only to home care agencies that meet and adhere to a stringent code of standards and ethics. These standards include extensive background checks and annual training for all caregivers. Once achieved, A+ certified agencies such as Westchester Family Care must submit regular disclosure statements to ensure that all standards are being maintained- including proper insurance and state licensing. A+ certified agencies also are subject to planned and surprise audits by HCSB.
As an A+ certified agency, Westchester Family Care provides the highest standard of senior care, personal care, and respite care. They offer a wide variety of services, including companionship, light housekeeping, grocery shopping, medication reminders, errands, doctor visits, and specialty care to clients throughout the surrounding regions. Westchester Family Care understands that every client and personal situation is different and requires an individual, customized solution. They also know that your health and peace of mind are important. Our experience is first hand and this is what sets us apart.
HCSB is proud to recognize Westchester Family Care as an A+ certified agency for their continued dedication to meeting stringent standards that demonstrate their high level of professionalism and compassion.
The HCSB Board of Directors are Ed Pittock, founder and former President of the Society of Certified Senior Advisors (SCSA); Dorcas Hardy, former appointee by President Ronald Reagan as Commissioner of Social Security; Gail Hunt, president and CEO of the National Alliance for Caregiving; and Dr. Harry R. Moody, retired Director of AARP Academic Affairs.