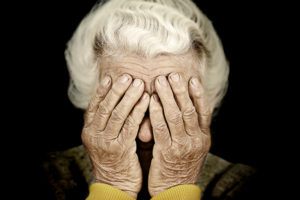 When individuals age, they often look to family members, friends, and services to provide the care they need. Unfortunately, becoming more reliant on others means that seniors are more susceptible to abuse and financial predators. In fact, elder abuse is experienced by 1 in 10 people age 60 or older who live at home.
The thought of having your older loved one or a senior you know harmed is frightening, especially considering that those who have been mistreated have a 300% higher risk of death in comparison to those who have not been. To protect those who once cared for us, it's incredibly important to know the signs of elder abuse and speak up on their behalf. Here we'll teach you about the warning signs of elder abuse, how to report it, and what you can do to prevent it.
Recognizing the Signs of Elder Abuse
It can sometimes be difficult to recognize signs of elder abuse, as they can be confused with symptoms of dementia, an accidental fall, or frail health. While it is true that signs of elder abuse do tend to overlap with symptoms of cognitive impairment and poor health, that doesn't mean you shouldn't investigate further, particularly if the family member providing care or in-home caregiver keeps dismissing the following:
Signs of Physical Abuse
Bruises, welts, or scars, especially if they are symmetrical and appear on two sides of the body
Broken bones
Sprained and dislocated joints
Broken eyeglasses and frames
Signs of restraint, like rope marks on their wrists
Failure to take medications regularly or reports of a drug overdose
Signs of Emotional Abuse
Unusual depression or change in alertness
Withdrawn from normal activities
Strained relationship or arguments between the caregiver and senior
Threatening, belittling, or controlling behavior from the caregiver
The senior is isolated from the family or seems scared to speak in front of family members, caregivers, or friends
Signs of Neglect
Poor hygiene and grooming
Sudden weight loss, malnutrition, or dehydration
Unsanitary or unsafe living conditions
Bed sores
Lack of hearing aid, cane, or glasses
Clothing that is dirty, torn, or not suitable for the weather
Caregiver deserting the senior in a public place
Signs of Financial Exploitation
Bills are past due and unpaid, even though the senior should have the resources to pay them
Unusual big-ticket items and services are being purchased that the senior doesn't need, like a video game system or gym membership
Valuable items or money is missing from the home
Sudden changes have been made to the power of attorney, property titles, or will
How to Report Elder Abuse
If you see any of the signs above, do not hesitate to report the situation. Never assume that someone else will step up and take care of the problem, or that the person being abused can get help if they really need it. You can be your loved one's best advocate.
One study found that only about 1 in 14 cases of elder abuse are reported to authorities,because many of the seniors who face abuse don't report it, even if they are able. Those who suffer abuse often fear retaliation from their abuser,and others believe that if they turn their abuser in, no one else will be there to provide care. If you believe your older loved one or a senior you know is being abused, you can reach out to the following services:
To get immediate assistance, call 911 or the local police
To report domestic elder abuse, contact The National Domestic Violence Hotline at 1-800-799-7233 or 1-800-787-3224 (text telephone)
To report elder abuse, visit the National Adult Protective Services Association website to find protective services in your state
For those in Westchester County, please contact Adult Protective Services (APS) weekdays at (914) 995-2259 and for emergency services at (914) 995-2099
How to Prevent Elder Abuse
The best way to stop elder abuse is to prevent it by being proactive. While that can seem like a daunting task, preventing elder abuse is a tthree-step process:
Start by listening to the senior and their caregivers
When you suspect elder abuse, don't wait—intervene
Educate others about elder abuse and how to recognize and report it
Preventing Elder Abuse as a Caregiver
If you are a family caregiver and are feeling stressed about providing care, request help. Don't take your frustrations out on the person who needs you most. Take positive steps toward relieving caregiver stress and burnout by seeking help from family, friends, or local in-home care agencies that offer respite services.
Preventing Elder Abuse as a Friend or Family Member
If you are a friend or family member of the senior and family caregiver, keep in touch. Call and visit them as often as you can to make sure their care is going well. To give the family caregiver a break, you can offer to help with care. You should also watch for the warning signs of elder abuse, and if you see it, report it.
Sticking together and caring for each other is the best way to prevent abuse and ensure seniors get the care services they need. Remember, speak up! If you see something that doesn't seem right, say something. For those who are feeling overwhelmed providing care or know a family caregiver who is becoming overwhelmed, there are respite options out there to help. Contact us today to learn more about iin-homecare and respite care services.