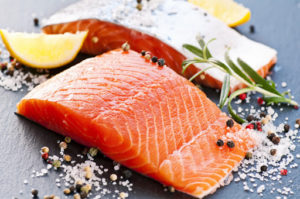 Alzheimer's affects over 5 million seniors in the United States, so it's likely that you or someone you know has been affected by Alzheimer's disease. While there is not a cure for Alzheimer's disease, there are steps you can take to help yourself and your aging loved ones prevent cognitive decline and be proactively healthy with well-balanced, nutritional diets.
Diet plays a big role in health.
According to research, the nutrient-rich and brain-healthy MIND diet helps people decrease their risk of Alzheimer's disease. While the MIND diet alone doesn't have the power to prevent Alzheimer's, a study showed that the MIND diet helped people lower their risk of the disease by 54%. The research also found that people who follow the diet even just part time were able to cut their risk by 35%.
So how does this diet work? The MIND diet is made up of a lot of plant based foods with nutrients that have been shown to be good for the brain like berries, green leafy veggies, vegetables, beans, nuts, whole grains, poultry, olive oil, and fish. People following this diet also avoid red meat, butter, margarine, cheese, pastries, sweets, and fried or fast food.
In addition to eating healthy foods, it's important for seniors to drink lots of water to stay hydrated. On top of drinking water, seniors can get fluids from soups, popsicles, and coconut water.
As an aging senior, sometimes it can be hard to prepare food alone and make sure to eat all the right foods. Put up a good food fight against Alzheimer's disease by helping your older loved one plan healthy meals. You can do this by helping them get to the grocery store to select healthy items as well as stocking their cupboards with healthy foods and snacks.
Alternatively, home care options like private home care services from Westchester Family Care can even offer your loved one help with light meal prep or food shopping errands if you can't be present in person or are located far away.
Contact us today to learn more about helpful in home care services for your loved one in the Westchester County, NY area.
MIND Diet Recipes that Seniors and the Whole Family Will Enjoy
Salmon Stuffed with Spinach and Cranberry
Ingredients:
1 pound of salmon fillets
1/2 cup of fresh spinach leaves
3 to 4 fresh chopped basil leaves
1 teaspoon of lemon zest
1 clove of garlic minced
2 tablespoon of chopped nuts (pecans, walnuts, or almonds)
2 tablespoon of chopped craisins
1 teaspoon of dried oregano
1 tablespoon of dijon mustard
1/2 cup of breadcrumbs
Directions:
Sauté the spinach until it is wilted with lemon zest and garlic.
Place craisins, nuts, basil, and oregano leaves together in a small bowl.
Add the wilted spinach, lemon zest, and garlic to the small bowl. Combine it with the craisins, nuts, basil, and oregano leaves.
Cut one horizontal pocket into each salmon fillet.
Stuff each salmon pocket with about two tablespoons of the spinach mixture.
Sprinkle breadcrumbs on top of each fillet after spreading one tablespoon of dijon mustard on the salmon.
Put the salmon on a non-stick or oven-safe paper lined baking sheet.
Bake the salmon at 375° F for 20 minutes or until the fillets are completely cooked.
Ingredients:
1 ½ cups of whole wheat flour
1/3 cup of sesame seeds
1/2 teaspoon of baking soda
1/2 teaspoon of salt
1/4 cup of tahini
1/4 cup of olive oil
2/3 cup of date paste
Directions:
Preheat your oven to 350 degrees.
Combine the flour, salt, and baking soda together in a large mixing bowl.
Whisk together the tahini, date paste, and olive oil in a separate bowl.
Mix the wet and dry ingredients so that they become sticky. If the mixture is too sticky, you can use a small amount of milk to thin it.
Form ball shapes with the dough
Refrigerate the dough for 30 minutes to an hour.
Remove the dough from the fridge after the time is up and roll it into 1 ½ inch balls.
Coat each ball of dough in a bowl of sesame seeds.
Put each dough ball onto a baking sheet lined with parchment.
Bake cookies for 10 minutes, or until you see that the cookies are golden brown.
You may not have time or be close enough to your loved ones to make delicious recipes all the time. Home care services can give you the peace of mind that you are helping your loved one stay healthy with nutritious food through light meal prep assistance. Home health aides can also help your loved one with errands like grocery shopping.
Contact us today to learn more about in home care and respite care services in the Sound Shore communities including Mamaroneck, Port Chester, Larchmont, New Rochelle, and Rye.