Westchester Family Care is celebrating our three-year anniversary this month.  We are thrilled to roll out our new website with a fresh new look, updated content, and resources for our families and caregivers.  We will also be able to post more frequent updates and communicate better with our community.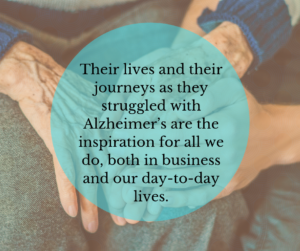 There are so many milestones to celebrate and reflect upon since October 2015.  Most poignantly we have lost all three of the courageous women that inspired us to start WFC – their lives and their journeys as they struggled with Alzheimer's are the inspiration for all we do, both in business and our day-to-day lives.
We have delivered almost 400,000 hours of care to our clients and have continually sought to improve the depth and quality of our services. We invest in our people and platform to provide the most value for our families and caregivers, and to differentiate WFC from the many other in-home care options.
We are gratified by the positive client and caregiver feedback received on our Home Care Pulse monthly surveys and are appreciative to all who have responded to date and in the future.  We have added numerous partnerships to supplement our care with large companies such as Uber and Philips as well as local professionals who work with our team on dementia coaching, nutrition, driver training, and workplace safety.  We look forward to deploying new technologies for our families and caregivers such as enhanced portals and web applications, electronic activity sheets, and more advanced home safety and monitoring devices.
We have recently been approved by NY State Department of Health to provide a Home Health Aide Training Program to provide the best possible training and development to our team and to help attract HHA and CNA caregivers in Northern Westchester and Connecticut.  Our new training facility is located in Katonah NY not far from the CT border and our first class is scheduled to begin on November 12, 2018.
We are proud of our accomplishments and thankful for all the efforts of our Caregiver, Nursing, and Office teams.  We have ambitious goals and will continue to innovate and differentiate with the care we are providing. We also promise that when and if issues of any kind arise they will be quickly acknowledged and addressed.
Thank you all again for an amazing 3 years and for the many successful years ahead for Westchester Family Care.