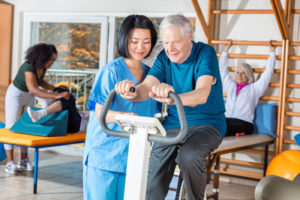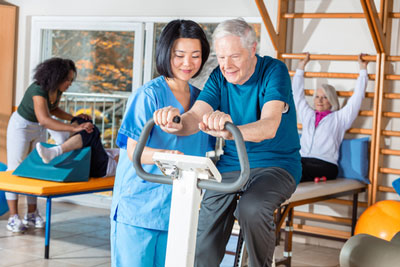 Fall Prevention Awareness Week occurs from September 22 to 28, so we'd like to bring your attention to two related statistics from the National Council on Aging (NCOA). Falls are the leading cause of life-threatening or general injury for senior citizens in the United States. In addition, 1 out of 4 seniors aged 65 or older fall each year. Unfortunately, people injured due to falls can suffer from head injuries, broken bones, fractures to the hip, and more.

You're probably asking yourself "How can I prevent my own grandparent or parent from falling?" There are several proactive steps you can take as a caregiver to help protect your aging loved one. We'll explore these fall prevention steps in our blog.
Get started with a heart-to-heart talk with your loved one
Talk about fall prevention with your loved one. Get them on board with fall prevention and help them understand their current state of health. Also, stress that falling risk increases if a person:
Has bad balance or vision
Takes a medication that causes dizziness or balance issues
Suffers from a medical condition like diabetes, stroke, or arthritis
Take big steps toward independence with small changes
Observe your loved one's everyday actions for signs that they need help. If so, assistive devices and therapies can help your loved one adjust to their changing needs while maintaining independence.
Manage medications with a spreadsheet and timed medication dispenser.
Consider an appointment with a physical therapist if your loved one is holding onto walls or furniture as they walk or is unable to stand up from sitting in a chair.
Use properly fitted assistive devices like a cane or a walker.
Evaluate your loved one's home safety
You can take measures to prevent falls with quick, affordable safety fixes in the home. Here are some tips for making your loved one's home fall-proof:
Check for needs throughout your loved one's home, and install home modifications like grab bars, hand rails, and additional lighting accordingly.
Repair broken or chipped steps and remove area rugs, which can lead to tripping.
Keep your loved one's home free of clutter and make it convenient to find any items they need.
Use a shower chair and a non-slip mat in the bathtub.
How Home Care Can Help With Fall Prevention
Most private home care services offer a custom home safety evaluation as well as safety and fall protection. In addition, home care services can provide help with walking and bed bound repositioning. Clients can also find bed, car, or chair transfer assistance.
It's difficult to adjust to an aging loved one's changing needs whether you're living down the street or hours away. If you're looking for customized home care for a family member near Westchester, NY, we can help. Contact us today so our family can start caring for your family.
Source: https://www.ncoa.org/healthy-aging/falls-prevention/