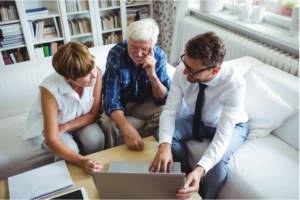 The cost of in home care and living expenses for seniors can be difficult for some families to manage. A popular option seniors have to pay for care is to use a reverse mortgage, or Home Equity Conversion Mortgage (HECM), to increase their cash flow using the equity of their home. A reverse mortgage for seniors can allow them to pay for the services they need, but it is a big financial decision that families members should help their older loved ones make together.
A reverse mortgage is a loan that seniors can take against the equity of their home, and the lender pays them for the value of their home. Large organizations like The National Council on Aging (NCOA) support and advocate reverse mortgages for seniors, especially for those who need help paying for senior care, like home care or long-term care insurance. With the support of the Robert Wood Johnson Foundation and the Centers for Medicare & Medicaid Services, the NCOA created the report Use Your Home to Stay at Home that details how reverse mortgages for seniors can alleviate financial pressure for individuals and families. Below are some of the pros and cons about reverse mortgages for seniors so you can get help deciding if one is right for your family.
The Pros of a Reverse Mortgage
Reverse mortgages are available to seniors age 62 and older who are eligible to procure a non-recourse loan, which means neither the homeowners or heirs are responsible for repayment right away. In fact, repayment only has to be made once the homeowners have passed away or permanently move from their residence for a year. The most common way of paying back the lender is by selling the home, as homeowners can never owe more than the home's value.
The money provided by the lender can be given in a single lump sum, monthly installments, or as a line of credit. Most seniors choose to receive payment through credit, as it allows them to use the funds when they need. Receiving these funds can allow seniors to cover the cost of in home care, adult day care, credit card debt, prescription drugs, or remodeling their home to age in place. The money received is also tax-free and does not interfere with Social Security Benefits or Medicare benefits.
All reverse mortgages are backed and regulated by the U.S. Department of Housing and Urban Development (HUD) and the Federal Housing Administration (FHA). Prior to getting approval for a reverse mortgage, seniors are required to take part in a HUD counseling session. These sessions help make sure that seniors and their families understand how the reverse mortgage works and give them the opportunity to ask questions.
The Cons of a Reverse Mortgage
Reverse mortgages for seniors are helpful when hiring caregivers or paying for home renovations to age in place, but they can potentially affect senior benefits. While reverse mortgages do not affect Social Security or Medicare benefits, they can affect Medicaid.
Medicaid is a program designed to help lower-income seniors pay for health care and long-term care, so seniors must meet asset and income requirements to be eligible. Individuals can only have liquid assets of $2,000 or less, and couples can have a maximum of $3,000. By taking a large sum of cash from the equity of their home through a reverse mortgage, seniors may become ineligible for Medicaid assistance.
When considering a reverse mortgage, it's also necessary to think about how long the homeowners will be staying in their home. It is important that the homeowners intend to stay for a few years because if they leave their home for a year, the cost of the loan will be due. Closing costs are also factored into the reverse mortgage, which can be expensive. Keep in mind that seniors who spend the equity of their home diminish the value of their estate.
When Is It Best to Use a Reverse Mortgage to Pay for Senior Care?
Reverse mortgages are best suited for seniors who do not require immediate care and can live independently in their home for a few more years. During that time, they can use the money from the reverse mortgage to acquire long-term care insurance or make modifications to their home so it is more accessible. Reverse mortgages can also be used to pay for in home care services to help seniors age in place.
If the senior's health requires them to consider moving into an assisted living or skilled nursing home in the near future, a reverse mortgage isn't an ideal solution to pay for care. This is because the rules of the reverse mortgage essentially require the home to be sold to pay off the loan if the owner permanently moves.
A reverse mortgage can be a good solution to help seniors pay for home care and renovations, but make sure it's right for your loved one's situation. Check out all the options available, and start the conversation early about where your loved ones want to stay and what kind of care they may need. If you are interested in planning for the future and would like to learn more about affordable in home care options in your area, contact us.